We Are An Authorized
Lucid Weapons Optics
Stocking Distributor

We Have The Lowest Prices On The Entire Line Of Lucid Optics. Guaranteed!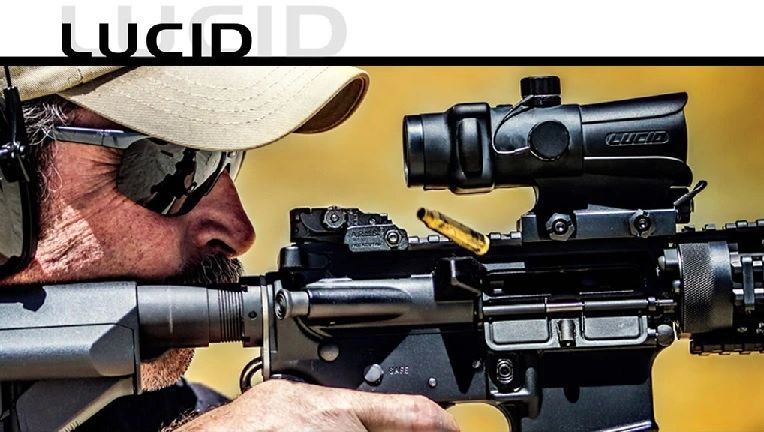 LUCID HD7 GEN III Weapons Optic


In the last four years the HD7 Red Dot sight from LUCID has been battle proven and tested in the very capable hands of Law Enforcement and Military professionals. While we believe in the old adage, "If it's not broken, don't fix it"; it was time to make a set of customer requested improvements to the HD7 and introduce the Generation III Unit.

These improvements include capped turrets, a new reticle set with more capabilities for the operator built in and the availability of a KillFlash Accessory. As with the original version of the HD7, you don't have to compromise with the GEN III HD7.

At LUCID we recognize that no two shooting situations are ever the same. We feel your optic should be able to provide functional feature benefits to assist in most situations. The HD7 has been designed from the ground up to be a strong, reliable optic that offers the most in operator selectable features and benefits that exceed the market standards at a price that is friendly to the wallet

HD7 (GEN III) SPECIFICATIONS:
• Cast Aluminum Frame
• Chemical Rubber Armor
• Lower 1/3 Co-Witness
• 13mm Mounting Nuts
• Reversible Mounting Pins
• Reticles based on a (2MOA) dot
• Weight: 13oz
• Waterproof & Fogproof
• Shockproof (.458 SOCOM)
• Auto Brightness Sensor
• Auto Shut Off (2 hour)
• 7 Brightness Levels
• Battery: 1, AAA (Not Included)
• Easy Access, Leashed Battery Cap
• Capped1/2 MOA Adjustments
• Parallax Free
• 34mm Objective Lens
• 20mm Ocular Lens
• FOV: 35ft @ 100yds
• 1x Unlimited Eye Relief
• Picatinny Rail Mount Built-In
• Available 2x Magnifier
• Available QD Mounting Kit
• Available Kill Flash filter
• Available Leashed Turret Caps
• Limited Lifetime Warranty

LUCID P7 4X Weapons Optic

Over the years, LUCID has had many requests for a 4x magnified combat optic. True to LUCID fashion, we always listen to our customers. Through heavy R&D we settled on an intricate mix of features and benefits put together in the standard durable way we do things where overkill being is underrated.
We gave the NEW P7 a crystal clear 4x optical performance and a proven cast aircraft grade aluminum frame for proven durability, then wrapped it in the same chemical rubber housing as we do with the HD7. Keeping with the success we had in offering a unit with a common power source, we built the electronics of the P7 around the readily available AA power source providing up to 2500 hours of "on target" use.

The P7 has offers fast targeting with a highly useful ballistic MOA measuring tape in the (P7) reticle. This reticle is specifically designed to offer the fast target acquisition necessary in a combat optic, along with highly useful MOA measuring tape, ballistic hold over information up to 80 MOA in elevation. This reticle will allow for the operator to manage any
target with relative ease, near or far.
As expected, the P7 has been designed from the ground up to be a strong, reliable optic that offers the most in operator selectable features and benefits that exceed the market standards at a price that is very affordable.
Featuring the NEW P7 Reticle.

Auto Brightness Sensor - So the operator does not have to take a hand off the weapon to manipulate the reticle brightness when going from a bright environment to a darker one.
Reversible Mounting Pins - We made the mounting pins reversible so the Bull Pup weapons can utilize the HD7 without cracking the knuckles of the operator when the bolt carrier needs charged.
AA Battery - An economical and readily available power source for offering over 2500 hours on a single AA battery.
Mounting - A robust Picatinny rail mount is built in for secure and rock solid mounting to most weapons platforms.
100% Waterproof, Shockproof & Fogproof - Because you never know what environmental conditions you will be in when you need to rely on your weapon system.
Available"Killflash" filter.
Combat Effective P7
With the P7 reticle set in a crystal clear and precise LUCID optic, the operator no longer needs to be unsure of their shot placement over distance. Like the proven L5 reticle the P7 reticle is is a simple MOA measuring tape with useful hold over increments set 8MOA apart.
The P7 reticle shines in it's intended use for fast target acquisition. The sighting circle with the framing wedges allow the operator to gain a precise hold on the target very quickly.
The P7 also provides meaningful wind estimation dots to reference while shooting in less than optimal conditions. With the immensely useful addition of having the reticle available in STRELOK, the operator now can have exact ballistic data for spot on ballistics no matter what platform the P7 is used on.


LUCID 2X Screw In Magnifiers

The LUCID screw-in 2x magnifier is an option available for the LUCID HD7 red dot sight
and the NEW M7 Micro red dot sight.This magnifier was specifically designed to answer the demand for those who want a dedicated magnified view for their 1x red dot optic.
With a built in ocular focus adjustment and a very forgiving eye relief this magnifier will bring the targets close enough to gain the added precision you may be looking for on your set-up. Also, those operators that may have a tiny bit of uncorrected astigmatism should know that a little magnification will help correct the appearance of a blurry reticle.
2x Magnifier SPECIFICATIONS:
• Fully Multi-Coated Lenses
• 100% Shockproof & Waterproof
• 100% Fogproof
• 2x Magnification
• Threaded for HD7 & M7 Red Dot
• FOV @ 100yds - 37ft
• Weight: 2oz • Eye Relief - 2" - 7"
• Limited Lifetime Warranty
LUCID 2X - 5X Variable Screw In Magnifiers

When the situation calls for a more precise shot, a bit outside the typical comfort range of your red dot sight, why not have the ability to bring the appearance of your target a bit closer?
LUCID Red Dot Magnifiers are designed to provide exceptional optical performance and the shooting confidence to reach further with confidence, when necessary. Each of the Red Dot Magnifiers from LUCID are designed with care and attention to detail. We made them rugged, durable and offer a variety of functions suited to most shooting situations and operator needs. Take a closer look and we are sure you will see the importance of having a LUCID view.
LUCID is proud to offer the world's first variable magnifier for red dot sights. Now the operator is able to transition quickly between a CQB operation to a designated marksman capability in an instant with the same weapons platform. LUCID's 2x-5x Variable magnifier mounts behind any red dot sight (with the right mount). This high quality optic offers crystal clear optical performance, and maintains an expansive field of view with a comfortable eye relief through the entire magnification range. NOTE: The 2x-5x Variable Magnifier from LUCID has been updated to offer an ocular focus ability!
2x-5x Variable Magnifier SPECIFICATIONS:
• Fully Multi-Coated Lenses
• 100% Shockproof & Waterproof
• 100% Fogproof
• 2x - 5x Magnification
• 30mm Tube
• Objective Lens: 21mm
• Adjustable Dot Centering
• Weight: 7.75oz
• FOV @ 100yds - 40ft - 25.5ft
• Eye Relief: 4"
• Compatible with ANY Red Dot
• Limited Lifetime Warranty
LUCID Accessories
LUCID Kill Flash
Designed specifically for the HD7 red dot, this accessory reduces any annoying lens glare and reflection as well as adds an extra level of protection for the objective lens of the HD7

SPECIFICATIONS:
• 6061 T6 Aluminum
• T3 Mil-Spec Anodized
• Weight: .2oz.
• LIMITED Lifetime Warranty

LUCID Scopecoats

You asked for protective covers, so LUCID partnered with ScopeCoat for the best solution possible. Constructed using high-quality Neoprene core, laminated with Nylon. It's simple yet effective design safeguards your optic against dings, scuffs, scratches, dust, dirt, and moisture. Protect your LUCID product from the elements.

SPECIFICATIONS:


• Recommended for LUCID M7, HD7, L5 & P7 Rifle Scopes




• Limited Lifetime Warranty
FAQ

Through the years we have identified a short list of common questions we get on a regular basis. In an effort to help our customers troubleshoot faster and get the answers to their question in the most efficient way, we have published some of them here.
If you have questions that are outside these, or simply want to discuss our products, please don't hesitate to contact us directly.
(Q)
Where are the LUCID products made?
(A) All of our products are designed and engineered right here in Riverton Wyoming. Some of our items are made right here at home in the U.S.A. while other items in our line suffer from the reality that in order to be able to offer them at a price point that is acceptable by the market we have them assembled in Asia.
• • •
(Q) Why are the retail prices direct from LUCID, on our web site higher than other on-line dealers?
(A) This is intentional, we protect our dealers and distributors by only offering our products at the MSRP. This way we are not competing with our dealers while still allowing access to the products for customers that do not have a dealer in their area. Also this policy allows access for those that wish to purchase directly from LUCID.
• • •
(Q) What happens if the battery fails and causes the optic to no longer function?
(A ) In a battery failure resulting in leakage or corrosion, the issue is with the battery not the optic. LUCID can not fully warranty the product from such a failure since we have no way of controlling the quality of the batteries. In these cases we typically make every effort to get the optic cleaned up and back in function. If this process is unsuccessful, in efforts to be fair to all involved we will offer a deep discount on a replacement.
• • •
(Q) Why does the HD7 not come with lens covers?
(A) LUCID does not make lens caps for our optics for a few reasons. Lens caps are a strong subjective / functional fashion item for optics that it would be nearly impossible for us to do a quality job of providing them, Also, there are several issues with lens caps including patents to consider. We do however recommend Butler Creek as well as Scope Coat items. We have found that they both do an outstanding job. Some of the options we recommend are below.
Butler Creek lens caps for the HD7.
Objective - 23 OBJ (with a slight modification for the battery cap area.)
Ocular - 05 EYE
Ocular with the 2x magnifier, 03A EYE
NOTE: For the 2x-5x Variable Magnifier, 13EYE.
Scope Coat for the HD7
XP-6, sized for the Eclane Specter
• • •
(Q) Why are the adjustment turrets on the (Gen II) HD7 so stiff?
(A) The adjustment turrets on the (Gen II) HD7 are designed to be stiff, in an effort to keep them from getting bumped during hard use. If you find the turrets near impossible to turn, simply wrap a soft cloth over the turret to protect the finish and use a pair of pliers to move the turret back and fourth. This will loosen up the heavy grease controlling the action of the turret. NOTE: The NEW GEN III HD7's offer capped turrets in an effort to fix this perceived issue.

(Q)
What mount do I need to allow for proper alignment of the 2x-5x Variable Magnifier with my "Other Brand" red dot sight?
(A) It is not practical for us to keep up to date with all of the other red dot sights specifications in regards to mounting compatibilities. We can only speak to the LUCID products properly. Please understand that LUCID does not make mounts for our magnifiers. There are several issues with mounts including patents to consider. We recommend "American Defense Manufacturing." They do a great job of making many types and styles of mounts.
• • •
(Q) What does the LUCID Limited Lifetime Warranty cover?
(A) Let's keep it simple, basically we guarantee that LUCID branded items will be free from manufacturer defects and hold up to the normal use. Please note that this is not a license to abuse our products and then ask for a refund. Bottom line, if there is truly a problem with the item, LUCID will make every effort to make the situation right. As for the non-LUCID branded items we may carry, they will be subject to the original manufacturer's warranty.
• • •
(Q) Why have I not heard of LUCID until now?
(A) While the marketing efforts of LUCID are growing, we choose to spend our efforts and money on quality control and new product development rather than on expensive advertising campaigns. We do have some traditional print advertising in place as well as some radio efforts. We also embrace the social media avenues and allow our customers to be our ambassadors in the field. With this strategy we have been able to grow quite effectively.
Need A Price Quote?

Call Us At: 513-550-7425
Or Email Us At: info@lesslethalproducts.com