Product Press Releases


February 6, 2019
St. Paul Police Piloting The Use Of Non-lethal 'PepperBall':
By: Maury Glover, FOX 9
POSTED: FEB 06 2019 08:08PM CST
VIDEO POSTED: FEB 06 2019 09:55PM CST
UPDATED: FEB 07 2019 03:14PM CST
ST. PAUL, Minn. (FOX 9) - The St. Paul Police Department is hoping a new tool can help prevent deadly encounters.
Called "PepperBall" the program employs the use of guns that shoot out pepper balls. Officers have to be about 20 feet away from the target to use a Taser, but with this new non-lethal tool, they can be 60 feet away to deescalate a dangerous situation.
"Most of the officers will be deploying with a bag like this," said Commander Kurt Hallstrom.
St. Paul Officers already have a handful of tools in their toolbox.
"I'm going to make an announcement, 'Sir, drop the bat or I'm going to use force,'" Hallstrom demonstrated.
But the newest addition takes aim at reducing the use of deadly force in situations where it's not necessarily needed.
The Department started a pilot program for about 100 officers in the central district to use pepper ball last Friday.
The launchers look like pistols and shoot marble-sized projectiles filled with a pepper powder that burst into a 2-foot wide cloud when they hit their target.
"So if you were somewhat aggressive towards me, standing with fists clenched saying come at me, I'm going to go direct impact you with projectiles and hopefully get you to come with us and from a safe distance," Hallstrom said.
Hallstrom said only Tasers only work 50 percent of the time and officers have to stand very close to suspects to use pepper spray.
The pepper balls, however, can be used from 60 feet away, giving officers more time and space to react to what's happening.
"We believe it will allow us to have a much lower levels of force in response to some situations," said Hallstrom.
Hallstrom said pepper balls contain the same irritant as Tobasco Sauce and cayenne pepper.
Police say another way to deescalate potentially dangerous situations will help officers breathe a little easier on the job.
"The goal is to get everybody in the central district to have one of these every shift every day every time they go out on the street," Hallstrom said of the department's plans.
The St. Paul Police Foundation provided the $50,000 to purchase pepper ball equipment.
The pilot program is expected to last two to three months and, if all goes well, it could be expanded to the entire department.
February 12, 2019


St. Paul Police Use PepperBall For First Time On Woman Threatening To Blow Up Building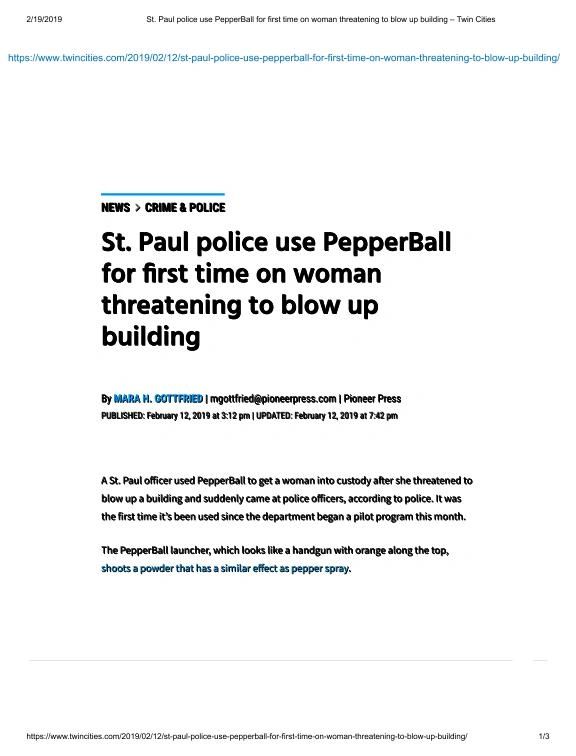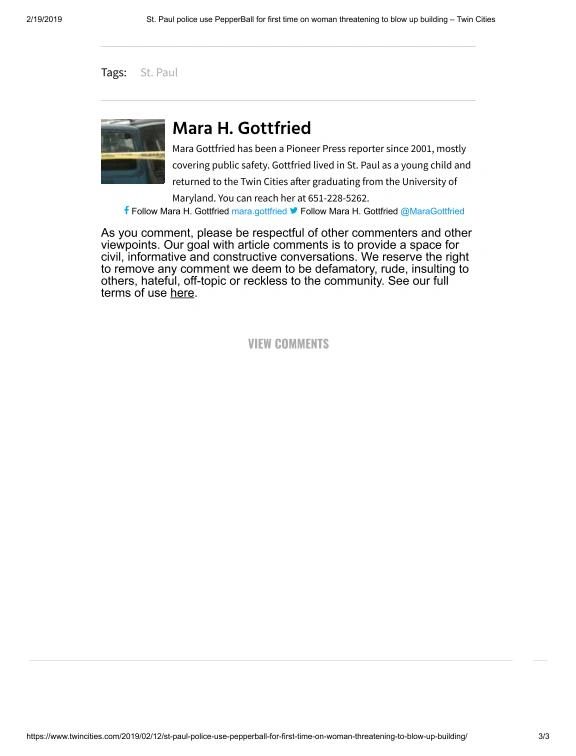 April 26, 2018
Sand Springs Police Replace Tasers With PepperBall Guns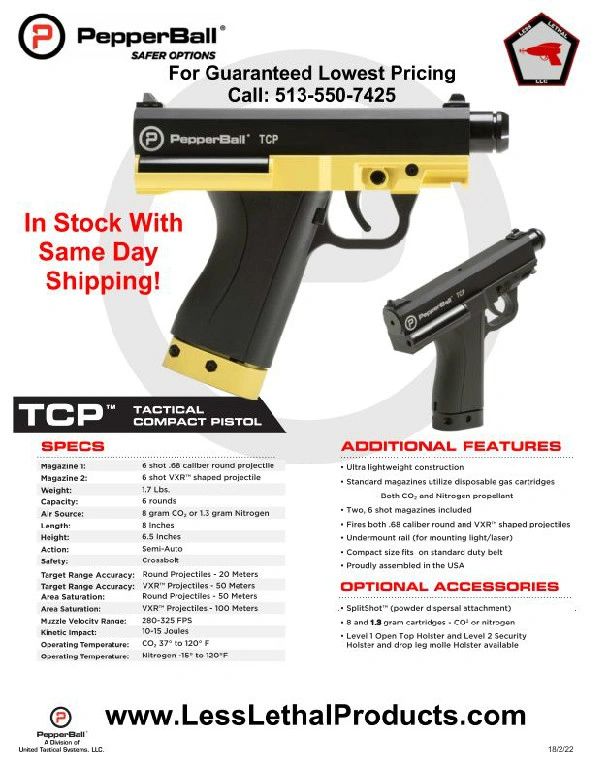 SAND SPRINGS, Oklahoma -
According to Sand Springs police officers, Sand Springs Police Department is one of the first departments in the state to replace some of their tasers with pepperball pistols.
The decision to make the change was partially in response to an arrest last year in which an officer's taser failed to deploy. The officer was able to body slam the suspect and take him into custody, but according to Sand Springs Captain Todd Enzbrenner things could have been worse. In fact, Captain Enzbrenner says tasers are only effective about fifty percent of the time.
"If you are too close, the prongs don't spread out far enough, or there is heavy clothing and the probes don't make it to your body or you just miss, The more different types of options that we have available the better it is for us and for the public as well," said Enzbrenner.
Over the next few weeks, some officers will begin carrying pepperball pistols instead of tasers. They hope between the two weapons; non-lethal force will be more reliable for officers on the streets.
Sand Springs Police Chief Mike Carter says the new tools are a continued effort to do everything they can, not to have to use lethal force.
"There will still be deadly force encounters in America but anything we can do to lessen the number of times that happens then I think that is a good thing for us," Said Carter.
Officers say money from a police auction helped pay for the pepper ball pistols as well as other equipment.
December 10, 2014
Pennsylvania State Police Select ASP Triad USB
As New Duty Issue Light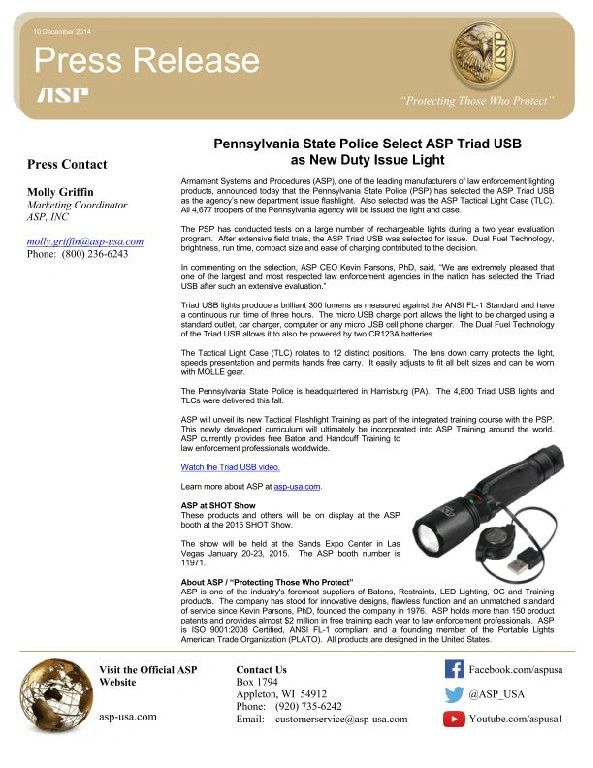 November 13, 2013
The United States Department of Defense Chooses the SOF® Tactical Tourniquet-Wide
From Tactical Medical Solutions

The United States Department of Defense ordered 30,000 SOF Tactical Tourniquets-Wide from Tactical Medical Solutions Inc. for soldiers operating in Afghanistan. This commanding order comes on the heels of a multi-year/multi-million dollar blanket contract with the Defense Logistics Agency.
"The U.S. military has been using the SOF TT-W tourniquet for years. Their choice to move it into a priority position solidifies the SOF TT-W as the tourniquet of choice for American men and women in uniform," says CEO Ross Johnson.
Tactical Medical Solutions Inc. is a global developer and manufacturer of medical supplies for combat and tactical medicine.


January 24, 2013



The Tactical Medical Solutions "ARK" Is Put Into Service By The Colerain Police Department & The Northwest Local School District In Cincinnati, OH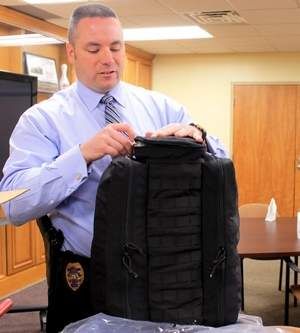 It's not just school officials who are concerned about what can happen inside school buildings and how to respond to threats.
Colerain Township police officers have done threat assessments for all of the Northwest Local School District's buildings and many private school administrators have consulted with police as they determine policies for their buildings.
Police Chief Dan Meloy said police have helped identify media, command, staging and family meeting locations in the event of incidents at all of the buildings. Classroom numbers are visible from the outside of the building for first responders. All of the assessments are sent to the FBI Southern Ohio Joint Terrorism Task Force.
Local businesses have also invested in school security. Meloy distributed first responder backpacks, bought with donations from area businesses, at the Jan. 15 meeting. The pack is filled with small first-aid kits that would help treat bullet wounds or other injuries, which officers can drop for victims they encounter as they move through a building in pursuit of an intruder.


November 2, 2011
National Presto Acquires ALS Technologies

Eau Claire, Wisconsin (November 2, 2011) — National Presto Industries, Inc. (NYSE: NPK) announced

today that its Defense segment has purchased the assets of ALS Technologies, Inc.,

a small Arkansas, manufacturer of less than lethal ammunition. Products include smoke and tear gas grenades, specialty impact munitions, diversionary devices and stun munitions, support accessories like launchers and gas masks, as well as training for the use of its products. Current year sales are estimated to be $7.5 million. The products are sold primarily to law enforcement and corrections facilities.
October 19, 2011


T3 Motion, Inc. Announced The Launch Of The T3 Non-Lethal Response Vehicle
The T3 Non-lethal Response Vehicles feature two guns
with capability to shoot 700 non-lethal rounds a minute per gun
COSTA MESA, Calif.
,

Oct. 19, 2011

/PRNewswire/ --

www.t3motion.com

-- T3 Motion, Inc. (NYSE AMEX: TTTM) T3 Motion, Inc. today announced the launch of the T3 Non-Lethal Response Vehicle (NLRV), designed specifically to provide law enforcement with humane and safe initiatives used during riots and violent protests. This new product line is designed with proven T3 technologies in mind, featuring the identical acute maneuverability, clean-technology and 24-hour patrol capabilities that T3 Motion products are known for. The T3 NLRV will be unveiled at the International Association of Chiefs of Police conference in

Chicago

on

October 23

.
The T3 NLRV's effectiveness for humane crowd control is based on a threefold approach. Semi-automatic, non-lethal launchers will be stowed away and are easily accessed by the officer in the event of a violent outbreak. The launchers will be compatible with various types of non-lethal ammunition including pepper balls, water balls, dye markers or rubber projectiles, none of which would seriously injure rioters. Each vehicle can store up to 10,000 rounds, allowing for long deployments that could not be achieved by an officer on foot. High-intensity LED deterrent strobe lights, specifically designed to deter a disorderly crowd, are incorporated into the vehicle. These deterrent lights provide long-life LED operation with low energy consumption and were designed with Whelen Engineering. The vehicle is equipped with a riot shield to physically protect the officer from crowds.
"T3 Motion continues to provide solutions for the modern day law enforcement agency. The T3 NLRV incorporates the core of T3 technologies, capitalizing on our flagship stand-up platform to expand the T3 Series ESV line," stated Ki Nam, T3 Motion CEO. "As the number of global riots and protests increase, law enforcement agencies are adjusting tactical responses to humanely and effectively restore the peace and control the crowd. The T3 NLRV offers agencies the tools to swiftly take control of the situation while preserving the safety of citizens and police departments alike."
The T3 NLRV launch is on the heels of its mobile T3 Automated License Plate Recognition System (ALPR) announced in June of this year. The T3 ALPR automatically scans license plates at a rate up to 7,500 vehicles per hour, notifying the officer of a wanted plate in seconds and providing agencies with real-time knowledge and post-action criminal intelligence.
T3 Motion's flagship product, the T3 Series Electric Stand-up Vehicle, has been on the market since 2006 and is known worldwide as a cost-effective, clean-technology tactical vehicle. T3 NLRV model utilizes proven T3 technologies known for easy operation, maneuverability and cost-effectiveness, but is specifically designed for larger crowds with stronger response requirements. Currently, T3 ESVs are deployed at over 180 law enforcement agencies in over 30 countries worldwide.
To watch the T3 NLRV in action, refer to T3 Motion's YouTube Channel,

T3MotionTV

.
T3 NLRV Features:
·
High-intensity LED deterrent light -- up to 40,000 lumens
·
700 rounds per minute non-lethal shooting capabilities
·
High-capacity air tanks with up to 10,000 round shooting capability
·
PA system
·
Riot Shield

·
High-capacity, swappable batteries
·
Video recording capability
·
Puncture-proof tires
·
Fast, mobile and agile
·
All-electric
About T3 Motion, Inc.
T3 Motion, Inc. (AMEX:
TTTM
) revolutionized the world of personal mobility with the introduction of their flagship electric T3 Series law enforcement vehicles at the International Association of Chiefs of Police conference held in October 2006. Headquartered in Orange County, California, T3 Motion, Inc. is dedicated to raising the bar on environmental standards and law enforcement and security capabilities in personal mobility technology. For more information, visit
www.t3motion.com
.
September 26, 2011
Gloucester Township, NJ

Man Threatens Officers With Meat Cleaver
During A Domestic Dispute
On September 26, 2011 at 2:53 pm, the Gloucester Township Police responded to a residence in the unit block of Kendrick Avenue for report of a domestic dispute with family members. Upon arrival, officers were advised that a male was inside the residence and had been arguing with family members. Officers attempted to enter the home and were confronted by the man, who threatened them while holding a large "meat cleaver"and a metal pipe. The suspect then barricaded himself inside of the residence.
The Gloucester Township Police Special Response Team (SWAT) and Crisis Negotiation Team responded and attempted to make contact with the suspect over several hours. During this time, to help ensure the safety of police and

the suspect

, a robot was deployed in attempt to locate the male with negative results.
A short time later, the male was then observed in a bedroom of the home laying on the ground and potentially disoriented with numerous edged weapons within his reach. While still not responding to police requests and concerned for his welfare, SWAT officers made entry into the home. They located

the suspect

in a 2nd floor bedroom in which he barricaded and screwed the door shut. The male refused to comply and show his hands with the weapons still along side of him.
He was then struck with Pepperball projectiles that allowed officers the opportunity to safely take the male into custody without injury. These "pepper powder" filled projectiles are deployed from a Pepperball Launching System, which is a less lethal chemical agent delivery system that uses high pressure air launchers to deliver projectiles from a distance.
The Gloucester Township Police have long believed in the value for law enforcement with this less lethal system providing another force option to save lives including the life of the officers involved and the subjects involved in this incident.