We Are An Authorized ASP Baton, ASP Handcuff & ASP Flashlight Master Stocking Distributor
We Have The Lowest Prices On The Entire Line Of ASP Products Guaranteed!
ASP Handcuffs
Quite Simply The Best Handcuffs Available
ASP Chain Handcuffs
Replaceable lock set
Forged alloy frame
Double sided keyway
Length: 9.4″
Width: 3.125″
Weight: 9 ounces
ASP Hinge Handcuffs

Replaceable lock set
Forged alloy frame
Double sided keyway
Length: 9.125″
Width: 3.125″
Weight: 11 ounces
ASP Rigid Handcuffs
Replaceable lock set
Reinforced bridge
Length: 9.125″
Width: 3.125″
Weight: 12.4 ounces
ASP Tri-Fold Handcuffs

Easily carried
Rapidly applied
Oversized loops
Smooth pull
Strap Length: 21.25″
Strap Width: .5″
Strap Thickness: .095″
Disposable Restraints And Improved Auto Scarab
ASP Pen
The LockWrite combines two most frequently used police tools (a pen and a handcuff key) into a single design. The result is a functional pen that has been married to a durable heat treated ASP handcuff key.
The core of the LockWrite is a precision, high density ink cartridge from Germany. Each LockWrite is packaged with a spare ink refill. When a cartridge is exhausted, simply return it to ASP with a check to cover postage. We will send a new refill at no charge. For life.
The handcuff key of the LockWrite is produced from 4140 steel, the same alloy we use in ASP Batons. Each key is precision machined, heat treated, polished and plated. A matte black body is accented in Gold, Silver or Black. A blue body pen with Silver accents is available for two pawl Security Restraints.
The LockWrite pen mechanism was custom designed with an exceptionally long throw. This allows the ink cartridge to smoothly click into place to issue a ticket or write a report. It will then retract into the key making it possible to unlock a pair of cuffs with a firm grip and extra reach.
Pens are available in either a click or twist design. Each is offered with Gold, Silver or Black accents. The body of the LockWrite is made by one of the world's premiere pen manufacturers. They routinely produce pens costing hundreds of dollars. This level of quality and durability is being put into every LockWrite. The result is a pen mechanism that rivals some of the world's finest writing instruments with a handcuff key as durable as an ASP Baton.
LockWrite . . . from the reality of the street.
ASP Triad Duty Flashlights
ASP Triad DF
The Triad DF is a workhorse duty light. The "Double Tap" option drops the light down to a low 15 lumen setting with just a quick, second press of the tail switch.
Dual Fuel Technology means you'll never be without a power source―it runs with either a rechargeable 18650 battery (included) or 2 CR123A primary (single use) cells, sold separately. The 18650 battery charges inside the flashlight, using the supplied cord and adapters, or any micro USB phone/electronics charging cord―no separate battery charger needed. An onboard indicator shows real-time charge status when the 18650 battery is in use—just open the bezel and press the tail switch. A green light indicates over 50% charge remaining, yellow means 20% to 50%, and red alerts you that less than 20% charge remains.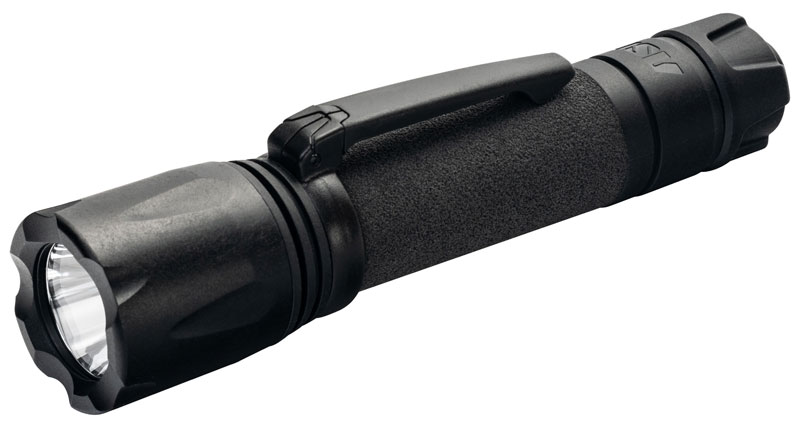 ASP Poly CR
This polymer-body performance tactical flashlight is built to be the finest, brightest, most advanced law enforcement lighting tool in the industry. The poly exterior, mated to an aluminum internal frame and wrapped with our exclusive foamed vinyl grip, is preferred by some users for its tactile comfort in cold weather. Premium components include a Cree XPG2 LED, gold-plated connectors, polished aluminum reflector and optical glass lens.
A quick "double tap" of the switch activates a secondary/low setting at 15 lumens. A 3-position twist selector allows choice of intermittent, constant-on, or locked.
Includes 2 high-performance ASP CR123A batteries and removable pocket clip.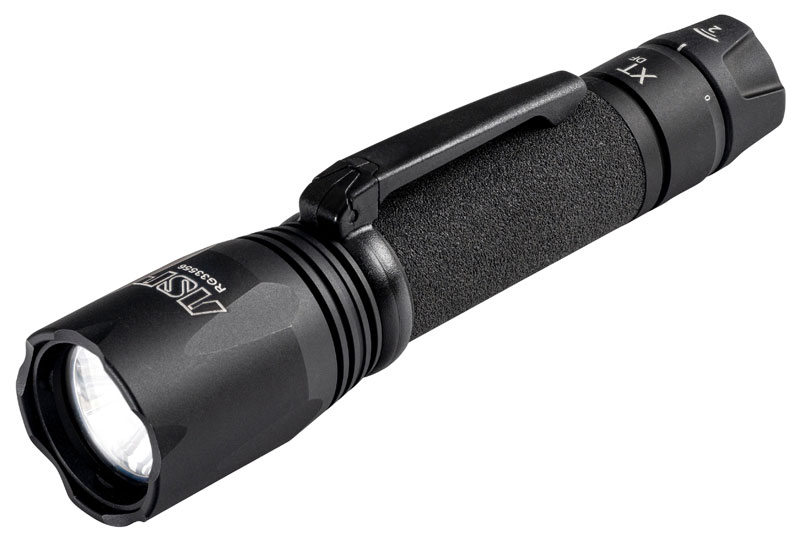 ASP XT DF
The XT DF has a maximum brightness (primary setting) of 600 lumens, with a secondary light level that's user-programmable at 15 or 150 lumens, or strobe. In keeping with our emphasis on intuitive design and simplicity in our law enforcement tools and training, activation is via a single pressure switch on the tail cap—press once to activate the primary/high setting, twice ("Double Tap") to activate the user-programmed secondary mode. Setting the secondary light level takes just seconds―simply twist the bezel open to activate programming mode, tap the gray selector button to cycle through the levels until you reach your chosen setting, and twist the bezel closed to lock it in. A 3-position twist selector on the tail cap allows choice of intermittent, constant-on or locked.
Dual Fuel technology means you'll never be without a power source―it runs with either a rechargeable 18650 battery (included) or 2 CR123A primary (single use) cells, sold separately. The 18650 battery charges inside the flashlight, using the supplied cord and adapters, or any micro USB phone/electronics charging cord―no separate battery charger needed.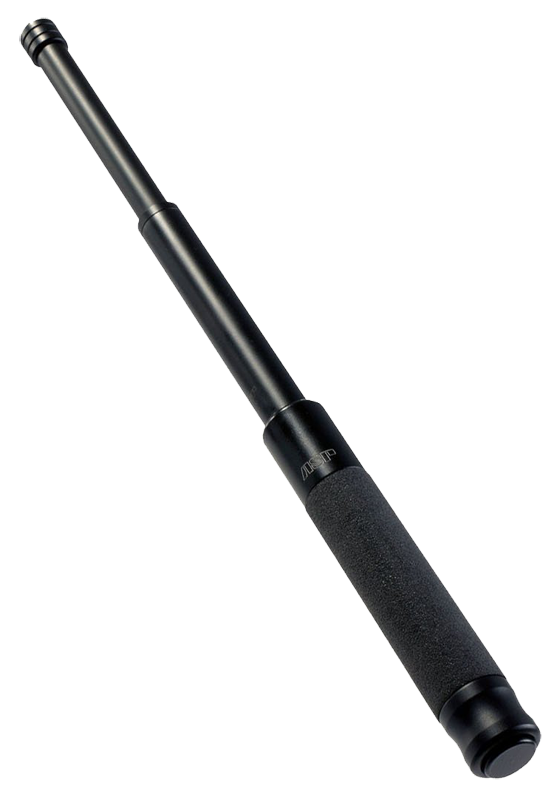 ASP Talon Baton
Elegantly simple. Incredibly strong. Easily carried. Rapidly deployed. Extended tip expansion. Push button retraction. A new standard of convenience. The Talon Infinity Baton from ASP.
This revolutionary new design uses a large disc that cams into an internal groove that is machined into each tube. Lockout is simple, stable and secure. Positive
expansion complements push button retraction.
The elegance of any design is measured by the quality and simplicity of its parts. In this baton you will find the premium materials, exceptional workmanship and flawless function of ASP all combined in a push button design with minimal parts. While others are content to introduce new products, the Talon produces a new standard. This is a baton with quality, durability and performance in every detail. This is the next generation of intermediate force. This is the Talon Infinity Baton from ASP.
After decades of consistently raising the bar on expandable baton design, construction and performance, we've found a way to outdo ourselves. Like our original and proven Talon design, these batons open decisively with a quick upward or downward flick—or quietly, with fingertip extension—and close directly into the scabbard or hand, with a push of the end cap or button. But with the Infinity family, we've reduced moving parts for greater precision, strength and long-term dependability. We've incorporated exclusive materials and construction to ensure faster, smoother deployment and retraction, while eliminating the need for routine lubrication. And we've backed it all up with the unprecedented Infinity Warranty:
If your ASP Talon has the laser-engraved Infinity icon (∞) on its nose cone, we'll repair or replace the baton if it fails for any reason, at any time, forever.
The Infinity family also adds a stunning, extra corrosion-resistant electroless nickel finish option, and an aggressively-textured Vector grip option, so there are more choices than ever. And like all ASP batons, the Talon Infinity series is supported by a full range of scabbards, glass-shattering BreakAway Tips, cap options and other accessories.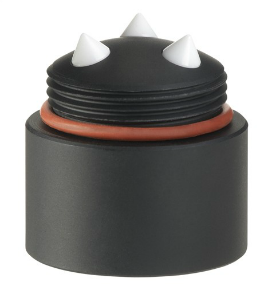 ASP Breakaway Baton Cap
ADVANTAGE:
The gasket system around vehicle windows provides a protective cushion that prevents breakage. Trying to shatter a window to extract an occupant is extremely difficult. A baton or hammer will bounce off if not precisely placed. A push punch or spring breaker carries the hand into the broken glass. The three precision ground ceramic pins of the BreakAway will shatter window glass from any angle. It provides positive window breakage in any tactical environment.
SPECIFICATION:
Low profile
Adds less than .75″ to the baton length
Precision machined
6061 T6 aerospace aluminum
Matte black hardcoat anodized
Attaches to any existing ASP Baton
Geodome radiused pin platform
Three custom molded ceramic pins
Positive pin contact from any angle
Accepts existing ASP baton caps:
Tactical (steel or aluminum)
Logo
Grip
Leverage
Tactical Triad LED
Tactical Defender OC
Provides protective pin coverage
PERFORMANCE:
Install the BreakAway between the ASP Baton handle and the baton cap. To use, remove the baton cap. Strike a vehicle side or back window from any tactically sound angle. The front window of a vehicle has an inner layer of laminated plastic. To break a front window, make a series of strikes in a circle. Then break out the circle.
ASP Folding Handcuff Keys
Traditional handcuff keys are short and often difficult to use. Extended keys are hard to carry. Their double lock pin and pawl release catch on equipment and snag on clothing. A folding key solves these problems but requires time to open. The AutoKey addresses all of these issues. In its open position, the extended key is easy to use. In its folded position, there are no protruding pins or projecting openers. Hung on a keyring or carried in the pocket, the design is ergonomic and smooth. A simple push button releases a back set, heat treated, stainless steel handcuff key. The Double Lock Slide exposes the double lock pin.
AutoKey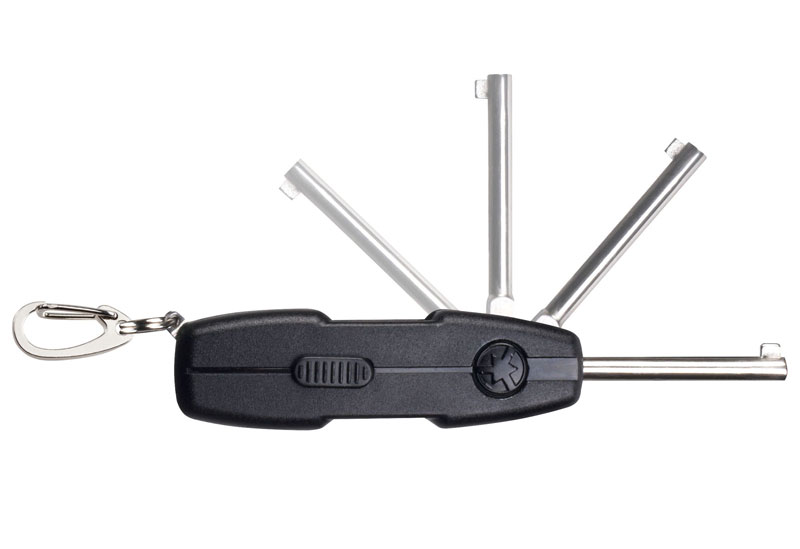 Switchblade action
Retractable double lock pin
Attaches to keyring
Edge Knife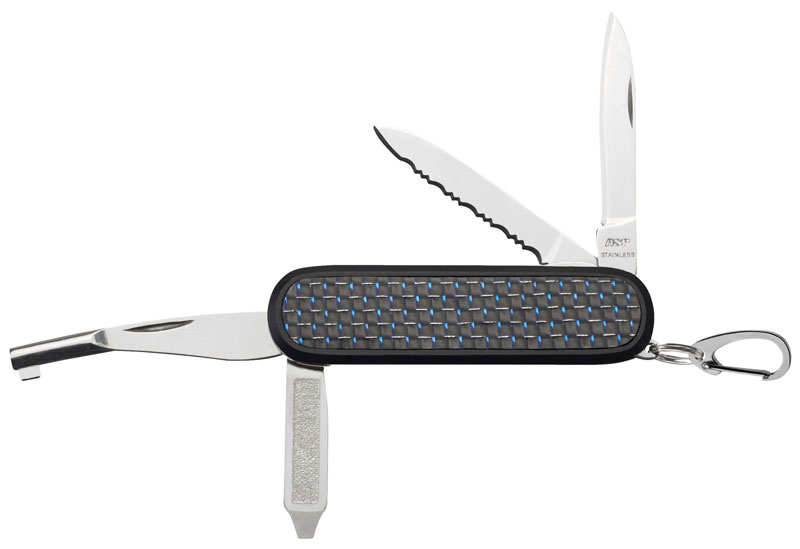 Detachable Clip
Handcuff Key
Liner Lock Serrated blad