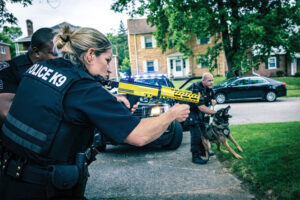 PPC™
13″ Smoothbore Barrel
Semi-automatic
Lightweight and portable
13 cubic inch HPA Bottle or an 88gram Single Use CO2 Cartridge
10 round capacity
Uses PepperBall .68 caliber round or VXR projectiles
Free-floating M-Loc Hand Guard for Mounting Accessories
Cross-bolt safety
See PPC videos on PepperBall Videos page
PPC Spec Sheet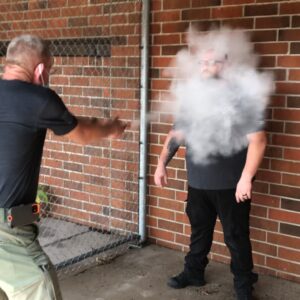 BLAST™
3x Payload Per Shot (3 Projectiles Worth of Powder)
Reloadable
Runs on 1.8gram N2 Cartridge (for use in all temperatures and climates)
10 Foot Effective Range
Quick Flip Safety
Reloadable Barrel / N2 Cartridges for Multiple Uses
See BLAST videos on PepperBall Videos page
BLAST Spec Sheet
FTC™
Semi-automatic
Firing rate of 10-12 RPS
Compact lightweight modular design
MIL-STD-1913 Rail for mounting accessories
Cross-bolt safety switch
13 Cubic inch high pressure air system
Two tank mount options – forward or rearward
Gravity hopper included (electronic hopper as shown is purchased separately)
Available in all black or black/yellow
See FTC videos on PepperBall Videos page
FTC Spec Sheet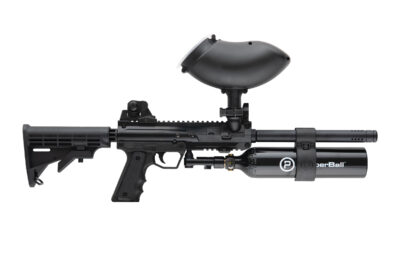 TAC-SA™
Semi-automatic electronic firing system with firing rate of 10-12 RPS
Compact lightweight modular design
Uses standard round projectiles, non-electronic trigger for semi auto firing with the gravity hopper
30 Cubic inch high capacity high pressure air system
Available in black or black/yellow
See TAC-SA videos on PepperBall Videos page
TAC-SA Spec Sheet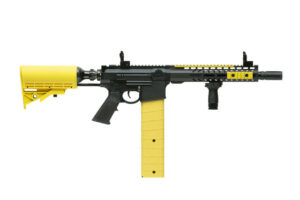 VKS PRO™
The new VKS PRO is the ultimate multi-payload, long-range, semi-automatic launcher with adjustable kinetics.  Mirroring the AR-15 platform, this effective non-lethal option is exceptionally accurate, easy to handle and offers a disposable 88g cartridge option.  Use the VKS™ with original round projectiles or long-range VXR™ projectiles.
Kinetic impact is adjustable to between 10-28 Joules.
With VXR™ magazine-fed fin-stabilized projectiles, has maximum range of 150 feet.
Magazine capacity of 15 projectiles (either original round projectiles or long-range VXR projectiles).
Dual air source: HPA butt-stock 13ci tank or remote airline to tank of your choice.  Compatible with 88g CO2 cartridges (sold separately).
Available in black or black with yellow (shown).
M-LOK handguard.
Adjustable foregrip.
Ambidextrous quick disconnect sling mount.
Compatible with gravity and electronic hoppers sold separately (original round projectiles only).
SplitShot compatible.
Optional accessories: electronic hopper, gravity hopper, extra magazines, VKS maintenance kit, single point or double-point sling, split shot, & split shot molle pouch.
VKS PRO Spec Sheet
TCP™
The Tactical Compact Pistol, our smallest PepperBall® launcher, gives you the ability to carry a multi-shot, non-lethal product on your belt. Use the TCP™ with original round projectiles or long-range VXR™ projectiles so you can maintain safe standoff distances. Plus, you can use CO2 or N2 cartridges.
Ultra lightweight construction
Includes two six shot magazines
.68 caliber rounds and VXR™ projectile compatible
Undermount rail
Compact size fits on standard duty belt
Available in all black or black with yellow (shown)
Optional accessories: Level-2 security holster, extra magazines, open-top magazine pouch, TCP hard case, split shot, & split shot molle pouch
See TCP videos on PepperBall Videos page
TCP Spec Sheet
Flashlauncher™
Combines a flashlight and PepperBall launcher into a single device.
Semi-automatic firing system.
Bright 350 lumen flashlight.
Integrated laser sight for rapid target acquisition.
Optional rechargeable battery & charger available.
See FlashLauncher video on PepperBall Videos page
Flashlauncher Spec Sheet