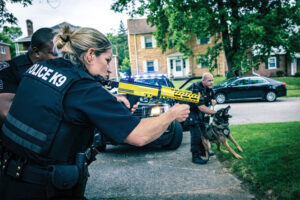 PPC™
13″ Smoothbore Barrel
Semi-automatic
Lightweight and portable
13 cubic inch HPA Bottle or an 88gram Single Use CO2 Cartridge
10 round capacity
Uses PepperBall .68 caliber round or VXR projectiles
Free-floating M-Loc Hand Guard for Mounting Accessories
Cross-bolt safety
See PPC videos on PepperBall Videos page
PPC Spec Sheet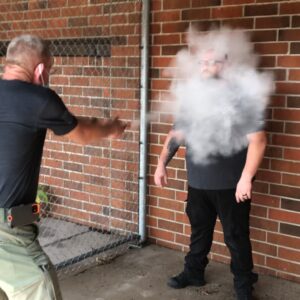 BLAST™
3x Payload Per Shot (3 Projectiles Worth of Powder)
Reloadable
Runs on 1.8gram N2 Cartridge (for use in all temperatures and climates)
10 Foot Effective Range
Quick Flip Safety
Reloadable Barrel / N2 Cartridges for Multiple Uses
See BLAST videos on PepperBall Videos page
BLAST Spec Sheet
FTC™
Semi-automatic
Firing rate of 10-12 RPS
Compact lightweight modular design
MIL-STD-1913 Rail for mounting accessories
Cross-bolt safety switch
13 Cubic inch high pressure air system
Two tank mount options – forward or rearward
Gravity hopper included (electronic hopper as shown is purchased separately)
Available in all black or black/yellow
See FTC videos on PepperBall Videos page
FTC Spec Sheet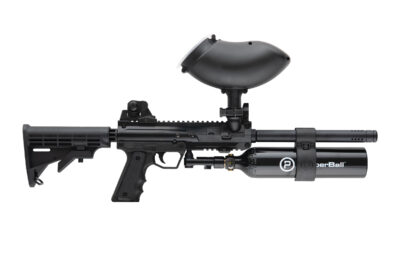 TAC-SA™
Semi-automatic electronic firing system with firing rate of 10-12 RPS
Compact lightweight modular design
Uses standard round projectiles, non-electronic trigger for semi auto firing with the gravity hopper
30 Cubic inch high capacity high pressure air system
Available in black or black/yellow
See TAC-SA videos on PepperBall Videos page
TAC-SA Spec Sheet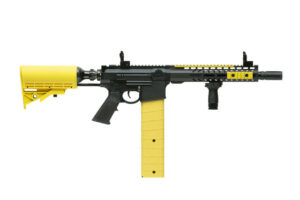 VKS PRO™
The new VKS PRO is the ultimate multi-payload, long-range, semi-automatic launcher with adjustable kinetics.  Mirroring the AR-15 platform, this effective non-lethal option is exceptionally accurate, easy to handle and offers a disposable 88g cartridge option.  Use the VKS™ with original round projectiles or long-range VXR™ projectiles.
Kinetic impact is adjustable to between 10-28 Joules.
With VXR™ magazine-fed fin-stabilized projectiles, has maximum range of 150 feet.
Magazine capacity of 15 projectiles (either original round projectiles or long-range VXR projectiles).
Dual air source: HPA butt-stock 13ci tank or remote airline to tank of your choice.  Compatible with 88g CO2 cartridges (sold separately).
Available in black or black with yellow (shown).
M-LOK handguard.
Adjustable foregrip.
Ambidextrous quick disconnect sling mount.
Compatible with gravity and electronic hoppers sold separately (original round projectiles only).
SplitShot compatible.
Optional accessories: electronic hopper, gravity hopper, extra magazines, VKS maintenance kit, single point or double-point sling, split shot, & split shot molle pouch.
VKS PRO Spec Sheet
TRP™
The Tactical Response Pistol (TRP) offers a light, compact design and features an easy puncture system that can be quickly pressurized by slapping the bottom of the grip.
Compact size with lightweight construction (fits on duty belt)
Quick puncture C02 system
Accepts 12g CO2 cartridges (20+ shots per cartridge)
Compatible with both round and VXR projectiles
Maximum range of 150ft+ – Gives officers time and distance to respond
No recoil
Includes 2 universal magazines
Available in all black (shown) or black/yellow
TRP Spec Sheet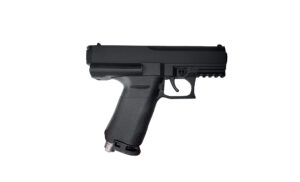 TRP