We Are The Largest Authorized PepperBall Stocking Distributor In The United States
We Have On Staff Certified Master PepperBall Instructors & Armorers To Answer All Your PepperBall Related Questions
We Have The Lowest Prices On The Entire Line Of PepperBall Products And Our Prices Are Even Lower Than Factory Direct Prices. Guaranteed!
We are open 24 hours a day and here to assist you with questions or to place orders. So feel free to call us any time day or night at 513-550-7425
We Are The ONLY Stocking PepperBall Master Distributor. Our Warehouse Is Stocked Full With PepperBall Products. We ship orders the same day they are placed.
PepperBall Projectiles

Launchers

Riot Vests

Bottles

All Other PepperBall Products
New PepperBall Customer Package with FTC Launcher $999.95 (Plus Shipping)
A Savings of OVER $1,200
Only Available to New PepperBall Customers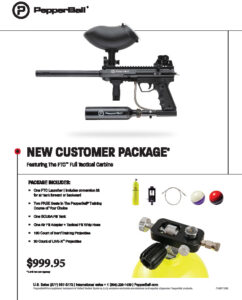 Includes:
1 FTC PepperBall Launcher with Gravity Hopper
180 Count of Inert/Training Projectiles
90 Count of LiveX Projectiles
1 SCUBA fill tank
1 Air Fill Adapter with whip
Training for 2 officers
FTC Launcher Package Spec Sheet
PepperBall Trade-Up Program
We will now take 

ANY 

of your old launchers in Trade working or not!

Trade in:
Receive: 
FTC Package $999 (plus shipping)
375 Count Live PAVA Projectiles
375 Count Inert Training Projectiles
One FTC Launcher with Gravity Hopper
TAC-SA Package $1,290 (plus shipping)
375 Count Live PAVA Projectiles
375 Count Inert Training Projectiles
One TAC-SA Launcher with Gravity Hopper
VKS Package $1,349 (plus shipping)
150 Count VXR Live-X Projectiles
300 Count VXR Inert Training Projectiles
One VKS Launcher (No Hopper)
Trade-Up Program Spec Sheet